The tile obsession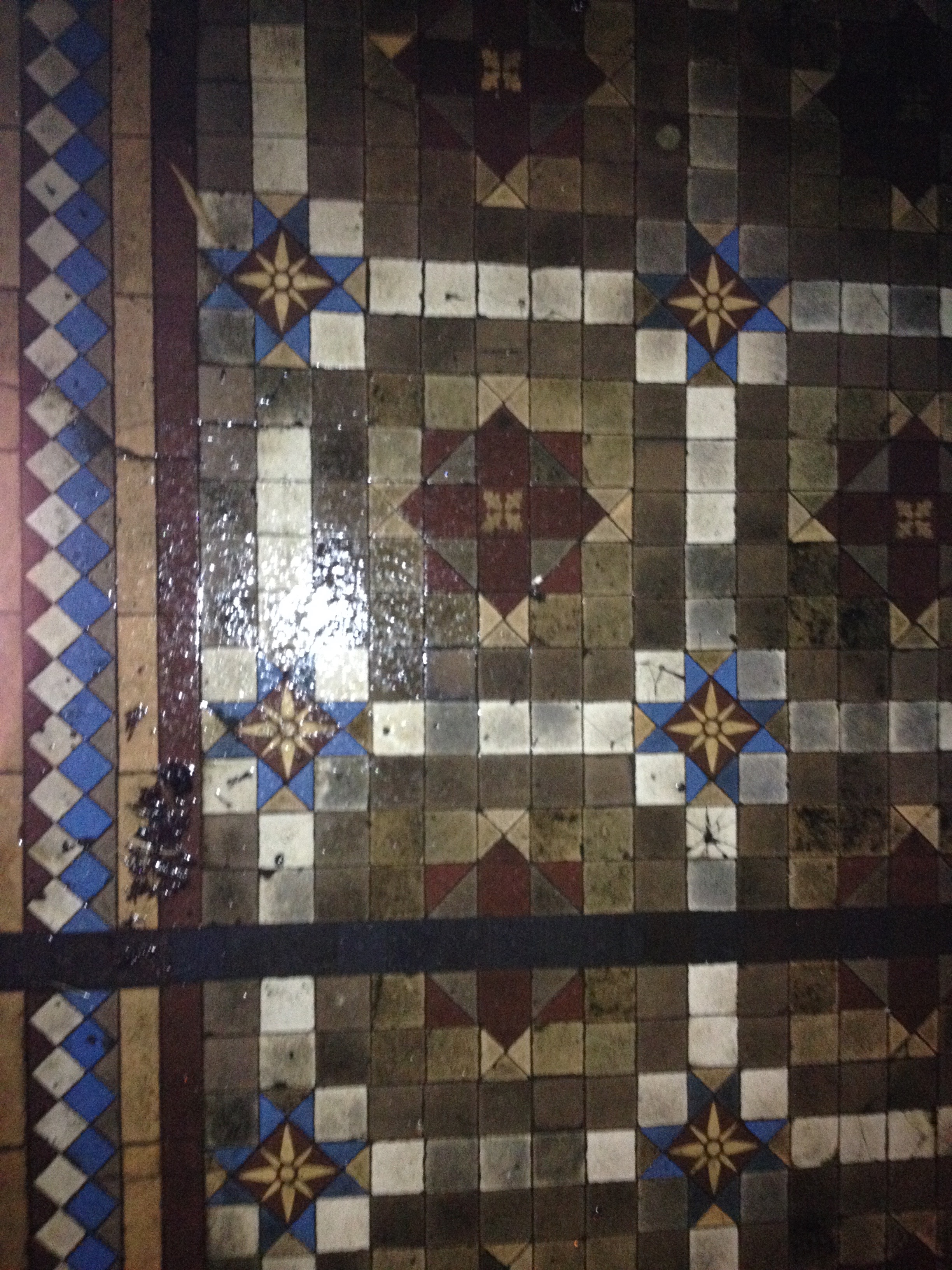 It started with my phone...
Back in 2014, I used my phone to take this rather cruddy photo of some tiles in the rain. Can't remember the exact details of why I stopped, but I must have liked the look of them and had, maybe, imbibed a little red wine. Anyway,it was a flippant photo, and I have no idea where in Hove it was taken. Fast forward three years and my photo library is now bursting at the seams with photos of tiles around Brighton and Hove. So, I thought it was time I do something with them and have been busy designing a quilt.
The reason I love the tiles is that they relate to patchwork. I also enjoy the way they add interest and pattern to (what can be) a boring world of new unimaginative buildings and tarmacked roads. The colours and the designs of the tiles take me back to an age where every little detail was considered, and the world looked a little more interesting. They shout out to be made into a quilt, and so I have designed one, made of sixteen blocks and all stitched using Englsh paper-piecing. Nothing ever seems to go swimmingly, and I have found a few issues with the quilt:
Firstly, I have no idea where a lot of the photos have been taken and want to name each block after the road where I took the photo. So I have been doing lots of walking around Brighton and Hove to go back and revisit them. Even this has not been as easy as it sounds as I seem to think I will remember them, and then get home to work emails, dinner and homework, which means I am then trying to recall what design was on what road. It is good for the step count though.
Secondly, there is the question of what colours and fabrics do in use in the quilt. How do the design of the graphic tiles transfer to printed fabric? I have gone for the easy option which is Liberty fabric. The colours and era seem to suit the tiles, and I have gone for a terracotta, blue and beige colourway which reflects the tiles.
I am inquisitive as to why certain patterns are where. There seems to be no logical format to this, although certain designs are more popular on specific roads. Did the architect, builder or home owner decide? Hove Library has an excellent local history section so I have been looking through books and papers there. I keep getting distracted though, there are so many wonderful historical documents!
Next step it to make the quilt, many of the blocks are designed and I have templates. By hand, so rather slow, but keep plodding along. If you are interested I am planning to sell it as a pattern, and will be running a quilt-a-long on Wednesday evenings (fortnightly) from September so let me know if you fancy making it.
I'm off to sew..!